MY BOTANICAL STORY (so far)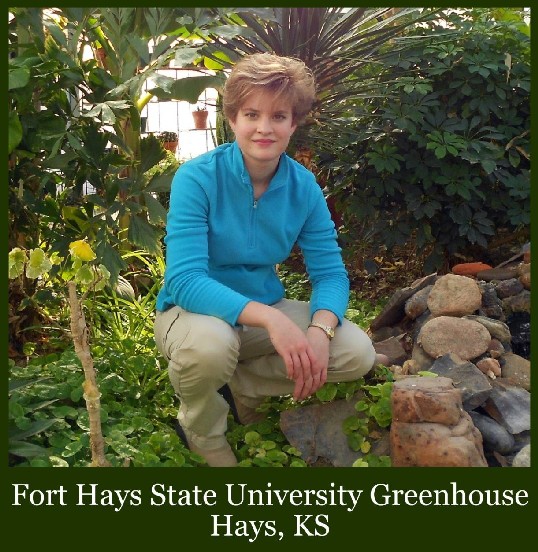 Growing up in the Palo Pinto Mountain's countryside of Texas, most of my childhood days were spent playing outdoors, enjoying every aspect of nature. A middle school teacher first sparked my interest in science, but I did not fully consider it as a career until beginning college. At first, I jumped from archeology and geology to agriculture and astronomy, trying to find where I would excel. I never actually thought about working with plants until one boring summer day when I was assigned a gardening chore involving Kalanchoë blossfeldiana. I suddenly became completely fascinated with plants. I had always imagined them as nothing more than a dainty, little object growing in my backyard. However, I started to realize plants were not just a landscape fixture, but complex organisms that were the foundation of life. I found myself overwhelmed with curiosity about plant biology, and began reading as much as I could about it. From there, I knew without a doubt I wanted to study botany.
I have always felt I learned more when applying myself outside the classroom, so I immediately jumped at the opportunity to work in a university lab the summer prior to my freshman year of college (Fig. 1 to the left). The Maricle lab at Fort Hays State University (Hays, KS), directed by my mentor, Dr. Brian Maricle, has been the primary source of my motivation and passion for botanical research. Not only have I had the privilege to work alongside inspiring botanists, but I have been able to learn far more than I could have ever obtained in a traditional classroom setting. Research gave me the chance to form my own interests, and explore the vast areas botany has to offer.
After a training period, I began constructing several independent projects to study effects of environmental stress (e.g., flooding, drought, spilled oil) on plant physiological processes (e.g., photosynthesis, respiration). This has been a great opportunity not only to build my knowledge as a scientist, but also strengthen my professional skills as a researcher. I have been able to develop research interests in plant physiology, anatomy, and conservation biology. Specifically, I try to apply aspects of plant physiological research to real world environmental issues, including effects of climate change on native plant communities.
A few research projects I am currently working on involve measuring how plants respond to environmental stresses. Most recently, a study on responses of photosynthesis and respiration to spilled oil in marsh species has had extremely rewarding results (Fig. 2). This project started with a preliminary trial and progressed to a large scale greenhouse study in which several native and introduced plants have been measured. Plans are in place to measure effects of oil on a community level through experimental mesocosms, and possibly a future field setup. In addition, the biological diversity of Kansas provides fantastic opportunities to conduct field studies. Currently, I am studying effects of drought on native grasses, such as Andropogon gerardii (big bluestem grass), of the southern mixed grass prairie at field sites in western Kansas (Fig. 3; Fig. 4; Fig.5; Fig. 6). The work involves manipulation of precipitation in a zone that is highly responsive to moisture. Starting in summer 2012, I will begin research at Quivira National Wildlife Refuge, an inland salt marsh near Stafford, KS, studying the relationship between salinity tolerance and invasiveness (Fig. 7; Fig. 8).
I have been able to present my research at three meeting so far, including the Botanical Society of America 2011 conference (Fig. 9), and I am in the process of publishing results. My respect for student botanical research has greatly deepened due to these experiences, and I have become a great advocate for undergraduate research in science. This has encouraged me to get involved in several extracurricular activities including the Botanical Society of America PlantingScience program, and an on-campus research program directly aimed at promoting undergraduate research.
Studying plant physiology provides me with a mechanistic understanding of how plants respond to environmental stress. Additionally, botanical research provides me with a deeper appreciation for science. It is extremely rewarding and humbling to study one of the most important groups of organisms on earth. Aside from botanical science, research can be applied to every college discipline. Students not only build strong research skills in their field, but acquire valuable relationships among professors and other students that share their interests (Fig. 10). In addition, research provides students with the opportunity to strengthen their professional career through presenting and publishing results. Research is by far the best way to receive a fulfilling education, and I highly encourage it to incoming or continuing undergraduate students.
My goals are to finish my undergraduate degree at Fort Hays State University, and continue into Masters and Doctoral programs in plant biology. After completing my education, I would like to pursue a teaching career at a predominately undergraduate institution. I hope to educate young botanists through applied research techniques outside the classroom, since this experience as an undergraduate has thoroughly helped me find what I enjoy most. Until then, I plan to continue expanding my botanical knowledge through research.
Special thanks go to the following organizations and institutions for research support: Botanical Society of America, Fort Hays State University Department of Biological Sciences, Fort Hays State University Office of Scholarship and Research Activities Undergraduate Research Experience (URE) program, Kansas Academy of Science, LI-COR LEEF Program, Dr. Chistopher Miller, Dr. Janet Grabowski, and Mr. Allen Casey from the United States Department of Agriculture NRCS Plant Materials Program, and Weed Science Society of America. In addition, scholarships were provided by: Fort Hays State University Department of Biological Sciences and Willis Scholarship Foundation, Inc.
| | | |
| --- | --- | --- |
| | | |
| Figure 2 | | Figure 3 |
| | | |
| Figure 4 | | Figure 5 |
| | | |
| Figure 6 | | Figure 7 |
| | | |
| Figure 8 | | Figure 9 |